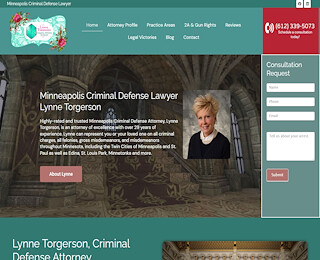 • Experienced
With various accreditations and certifications, Lynne Torgerson is so far the best twin cities criminal defense attorney for you. She has studied and trained in every aspect of the criminal law as well as relevant court procedures. Once she comes aboard your case, she will focus on creating the best defense on your behalf.
Through the decades of experience, she has become equipped to examine all the evidence and facts presented in a case to provide the best legal representation for clients. Basically, she will look for any loopholes or inconsistencies that will work in your favor.
• A Strong Understanding Of The Legal And Criminal System
Yes, you have the right to defend yourself if you're in the midst of criminal charges. However, you need someone with a strong understanding of the legal and criminal system for the best results. Her experience and expertise in criminal law make her the best attorney for you. Having been in the business for a long time, she has strong associations with judges, prosecutors and other crucial members in the justice system that can work the case in your favor. Don't forget about the legal jargon, involved in all legal proceedings that might be tough for you to understand. An experienced criminal attorney should handle your case effortlessly.
• Exceptional Research Skills
Any criminal case requires research to identify the facts and evidence to devise a good legal strategy. Also, it's important to track to track down important witnesses, cross-examine them and prepare the necessary documents to make sure there are no holes in the strategy. Working on your own might be tough since you can't handle the research required in the whole process. Well, working with the best criminal defense attorney comes in handy. Lynne Torgerson has the best staff and researchers who can handle everything from start to finish. Therefore, sit back and watch the best legal staff on your case from start to finish.
Contact Lyne Torgerson, the best criminal defense attorney in the twin cities and get the best representation for your criminal case.
Related Post
If you don't see the need for hiring a competent attorney, it could be beneficial to take the time to understand the job of a criminal defense attorney Twin Cities. A better understanding of the roles that criminal defense attorneys play in the criminal justice system will help you realize why it is so important to hire one.
The 5 Important Roles Played by a Criminal Defense Attorney
1. Advisor
A Twin Cities defense attorney will advise you on any aspect of the criminal justice system from the initial investigation of a crime right through to the appeal of a guilty verdict in the highest court in the land.
2. Protector
In the United States, you have several key rights guaranteed under the Constitution including the right to a public and speedy trial by a jury of your peers and the right to remain silent. A criminal defense attorney ensures that those rights are protected if you choose to exercise them and will walk you through the decision to waive them.
3. Negotiator
If you do admit to being guilty of the charges leveled against you, the role of your attorney becomes one of a negotiator to make sure that you get the most favorable terms possible if you are party to a guilty plea agreement.
4. Defender
While the vast majority of criminal prosecutions are often resolved without the need for a trial, Twin Cities criminal defense attorneys usually start to prepare to defend you at trials from the first moment you hire them.
5. Guard
Once a criminal defense lawyer represents you, nobody is allowed to contact you directly regarding your case including the police and the prosecution. Your attorney speaks on your behalf and essentially acts as a guard between you and everybody else.
Final Thoughts
When it comes to the need for a criminal defense attorney, it is quite clear that they do play an important role in ensuring that justice is served. If you are a Twin Cities resident facing criminal charges, you should consider hiring Lynne Torgerson. Lynne has been practicing for over 26 years and plays the 5 roles outlined here and many others to ensure that your rights are protected and justice is served.
If you are wondering how a criminal defense lawyer Twin Cities can do for you, it is important to note that he or she can transform your life. Here is a detailed look into what a criminal defense attorney can do for you.
1. Help You Get Reduced Fines
Fines can range from just simple traffic tickets to court orders for you to pay millions of dollars in restitution. Fines can be negotiated sometimes or they can be completely eliminated if you are found not guilty during your trial.
2. Avoiding Jail/Reducing Prison Time
If you have to spend time in prison or jail, each day behind bars is a day of your life lost. You need to find a competent criminal defense attorney willing to do everything possible to avoid or reduce any time you spend behind bars or even defend you so well that your charges are dropped.
3. Reduced Stress
A court case is probably the most stressful situation you can ever go through. But imagine how much stress you can avoid if you have complete trust and confidence in your criminal defense attorney. If you work with Torgerson you can be sure of working with the best defense attorneys in Twin Cities.
4. Losing Your Driving Privileges
The Department of Motor Vehicles or the court can suspend your license in many driving offenses. Before going to court, it is important to know that you could possibly lose the right to drive. A good criminal defense attorney will do everything possible to avoid such a situation.
5. Losing Your Security Clearance or Job
People are often not aware of the collateral consequences of being convicted of a criminal offense. It is important to have the right criminal defense lawyer to fight for your case and explain the consequences in detail and help ensure that you don't lose your job or security clearance.
Final Thoughts
If you are a Twin Cities resident who is facing criminal charges, you need the services of a competent criminal defense attorney. Lynne Torgerson has been handling all types of criminal cases for over 26 years. While Lynne cannot guarantee to get you out of every problem, she will do everything possible to mitigate the worst of the punishment.
1. Has the Twin Cities criminal defense lawyer ever had a client facing charges like yours?
Asking the criminal defense attorney about his or her experience with clients like you helps you to get a feel for your attorney's familiarity with the charges and the effectiveness of their defense strategies and you will also get a better understanding of what you should expect now that you are facing specific charges.
2. Will you be the lawyer handling my care?
Reputable criminal defense attorneys often promise free consultations. You now have to take steps to make sure that your handpicked attorney is the one that takes on your case and represents you. You should not back down on this. Failure to stand your ground could result in getting yourself stuck with an amateur lawyer that offers an ineffective defense.
3. Do you have any experience in criminal prosecution?
Defense attorneys often have prior litigation experience on the prosecution side. Working a case with a former member of the prosecution adds a valuable insight into your defense strategy. Ensure that you ask your potential lawyer about any prior experience as a prosecutor. However, a lack of experience in criminal prosecution should not prevent you from hiring a particular defense lawyer.
4. Do you have faith in my defense?
Once you have presented your lawyer with all the details of your charges you need to explore their thoughts on the crime you are accused of committing and your chances of being convicted or absolved. Look for any thoughtful reason why the lawyer believes that you stand a good chance and be wary of any lawyer who goes overboard or seems too eager.
5. How much do you charge?
It might seem obvious but you must never forget to ask a potential lawyer about their rates as well as any hidden charges. Some lawyers charge by the month, others by the hour, while some require a retainer. It is perfectly appropriate to work out how much you will be paying before you hire them.
Final Thoughts
If you are facing criminal charges, it is important to find a competent criminal defense attorney using the five questions listed here as a guide. Lynne Torgerson is a criminal defense lawyer who has been providing legal services to Twin Cities residents for over 26 years and is ready to answer any questions that you might have.
Lynne Torgerson Criminal Defense
612-339-5073
222 South Ninth Street Suite 1600 Minneapolis, MN 55402
View Larger Map
We welcome your comments!